JACK PINE & THE FIRE'S NEW SINGLE!!
Slacker-folk rebellion against overbearing bosses, parental expectations, rigid social norms, and wasted lives. JPATF's first single since their JUNO and CFMA nominated Left To Our Own Devices, "Rich In Time" is a modern folk anthem for millennial entrepreneurs and slackers alike. With three chords, a laid-back country bounce, and one simple message: Do what you love and you'll always be Rich In Time!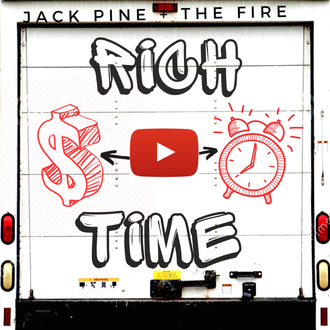 "Rich In Time" Official Video
Created by Aylmer, QC moviemaker Alain Ouellette - also responsible for Jack Pine and The Fire's previous Moustache is King and The Only Thing videos - "Rich In Time" stars Jack Pine himself as as a slacker on the job, along with his bandmates and singer-actress DeeDee Butters of Ottawa pop icons The Peptides .
This project is funded in part by FACTOR, the Government of Canada and Canada's private radio broadcasters. Ce projet est financé en partie par FACTOR, le gouvernement du Canada et les radiodiffuseurs privés du Canada.
"Rich In Time" Media Downloads: